Featured Vacation Rental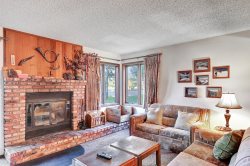 Sunrise Mammoth Condo Rental #46: WIFI Internet Access/Pet Friendly, Scenic Meadow Area: Near Mammoth Creek & The Snowcreek Golf Course
Communities
Mammoth Lakes, a place made for creating memories for you, your family and your grandchildren - on our ski runs, on our biking trails, or during a stroll down Main Street. Mammoth Lakes Lodging offers a wide assortment of accommodation types that are sure to meet the needs of any single, couple, group, or family visiting the beautiful Eastern Sierra area. Where are the best places to stay in Mammoth Lakes? We have listed our Mammoth Ski Resort Communities below. These include locations throughout town, in the scenic meadow area, near Mammoth Lakes golf and near Mammoth Lakes Ski lifts. Click on the links below to see the details of the Mammoth Vacation Rentals available through Central Reservations of Mammoth to start planning your new memories. We hope this helps you with your unit selection. Should you have additional questions or need more information than what is provided here please phone one of our friendly reservationists at 800-321-3261.
It does not matter which season you choose to enjoy, our Condominium, Townhome and Vacation Home Rentals are centrally located throughout the Mammoth Resort so you can choose to Stay Where You Play and conveniently enjoy all Mammoth Lakes has to offer.
Flying To Mammoth

Free Airport Transportation Year Round

We Offer Complementary Airport Transportation
When You Fly To Mammoth & Stay With Us
Must Arrange Your Airport Pickup at The Time of Making Your Reservation
Please Reserve Early, Space Subject To Availability
Submit Boarding Passes Upon Check-In

Mammoth homes rent for a minimum of 31 days and are ideal for extended stays to beat the summer heat, as a corporate or family getaway for the ski season or to simply spend more time in the beautiful eastern high sierra. Each Mammoth home rental features the comfort of a furnished home.
The Mammoth Chamonix year round complex offers a variety of units from quaint one bedrooms to deluxe townhomes that can accommodate up to ten guests. Chamonix is ideally located close to Mammoth Mountain's Canyon Lodge. We are near the lifts, ski school, rentals, lockers, dining and the Village Gondola that takes visitors down to the Village restaurants and shops. As guests of Chamonix Condominiums in Mammoth, you are invited to enjoy the spacious living quarters, recreation room, and the convenience of being one of the first in line for your morning ski run or walking home for a hot lunch. Additional nearby winter activities include cross country skiing, ice skating, snowmobiles, snow shoeing, dog sled riding, fine dining, movies and special events. Summer adventures include hiking, backpacking, climbing, fishing, canoeing, mountain biking and exploring the geological sites. The Chamonix complex amenities include a swimming pool (summer) and 3 Jacuzzis (open year round). The recreation room is 2 levels for families, which includes an Adult Area with large screen TV, fireplace and game table and Youth Loft with TV, free videos and ping-pong. Additional Chamonix amenities include Sauna, Coin Operated Laundry Facilities, Summer BBQ and Fire Pit area, a business center with fax and copy machines, a separate video game room, and High-speed Internet access at the Business Center. In addition there is outdoor parking available at Chamonix. Complex Map
Chateau Blanc is located in town, walking distance to The Stove Restaurant, Shopping and Private Gate access to Mammoth Creek Park. Chateau Blanc I & II were built in 1970. These developments have had renovations completed throughout the years. Condominiums range from 2-bedroom to 4-bedroom units with garages, fully equipped kitchens, fireplace/woodstoves, phones, TV VCR/DVD, linens and towels. Complex amenities include summer heated outdoor pool, Jacuzzi, sauna room, park like grounds and views. Located on the Red line shuttle bus stop #6. Complex Map
Centrally located on the free shuttle routes to Mammoth Mountain Ski Area and the free Town of Mammoth Lakes trolley in the summer. We are within walking distance of all major retail stores, restaurants and night-life. All of our vacation rentals feature fully-equipped kitchens, cable television and free wi-fi. Our vacation rentals are comfortable, convenient and easy to reserve. Enjoy your Mammoth Lakes vacation rental with all the comforts of home.
These condos are located 2 blocks away from Canyon Lodge and The Village Gondola. They offer garage parking and elevators. Forced air gas heat, open living - dining - kitchen areas, and bright interiors are only a few features of these units. There is a locked ski locker for all your storage needs. You can walk to the lifts at Canyon Lodge and at the end of the day take the gondola down to the Village for an Après Ski drink, dinner and some shopping. Complimentary shuttle buses are also available to take you anywhere in town. Amenities of this complex includes a year round sauna and spa and heated pool in the Summer months.
Snowcreek Resort Mammoth. Mammoth's original year round resort, offers the ultimate High Sierra experience. Snow Creek Mammoth Resort is an ideal getaway for those who enjoy fun and appreciate the finer things in life. Breathtaking mountain views and spectacular scenery as you step out your door. Walking distance to Snowcreek Athletic Club and Snowcreek Golf Course. Located in the desirable meadow area and on the Red-line Winter shuttle route stop to Mammoth Mountain Ski Area and throughout town. We feature one 2 Bedroom & Loft & 2 Bath condo in Snowcreek Phase II and one 2 Bedroom & Loft & 3 Bath condo at Snowcreek Phase IV for your lodging in Mammoth. These units will sleep 6-10 guests. Outdoor parking (with 2 parking spaces max) at Snowcreek adds to the convenience. Snowcreek Resort is the ideal setting to enjoy long weekends away, celebrate the holidays with extended family or begin new traditions. Beautifully landscaped grounds with wildflowers and grass run through the entire complex in the summertime. With two trout and duck ponds and a running stream, we think we have the most magnificent yard in all of Mammoth Lakes. Adjacent to the Snowcreek Meadow Preserve and bike path/nordic ski trailhead at Mammoth Snowcreek. Complex Map
Snowflower is a great year round family vacation spot offering great amenities, spectacular views and easy access to Mammoth Creek and the bike path for Mammoth Lake Rentals. You are only half a mile outside of town for easy access to restaurants and shops. Pick up the free winter shuttle at the entrance to this lovely complex or walk to the creek or driving range for Mammoth Lakes Golf. These town home style units are a favorite choice of visitors with large or multiple families or groups. All units at Snowflower are spacious Two Bedroom and Loft and Three Bath, light-filled town homes with Western/Southern exposure. These units will sleep 8-10 guests. After a great day of fishing or skiing/snowboarding, simply store your gear in the ski locker, located right outside the front door of your condo. Outdoor parking (with 2 parking spaces max) in front of your door adds to the convenience. This complex features two wonderful outdoor spas and a sauna. Coin Operated Laundry facilities and a BBQ area are also onsite for your use. Tennis anyone? Enjoy a set then a dip in the swimming pool. Tennis Courts and Swimming Pool are complex amenities available to guests in the summer months only. A wealth of outdoor activity is at your fingertips, including easy access to the bike path and fabulous Mammoth hiking trails; including Mammoth Rock and the Sherwins, horseback riding in the meadow, the motocross track that hosts the annual Mammoth Motocross, and fishing in Mammoth Creek. Searching for the perfect Mammoth Vacation Rental? Look no further, you have found it at Snowflower, one of the best values in Mammoth. Complex Map
Sunrise at Mammoth is a well-maintained year round complex featuring spacious 1-Bedroom & 1-Bath and 1-Bedroom & Loft 2-Bath Condominiums to sleep 2 – 8 guests. A few of our Sunrise rentals are also pet friendly. Located in the desirable meadow area, near Mammoth Creek, Snowcreek Mammoth Lakes Golf Course and is on the red-line Winter shuttle route stop to Mammoth Mountain Ski Area and throughout town. Many units have fantastic views of the Sherwin Mountains. Sunrise is steps away from Mammoth Creek Park and is very family friendly. Within easy walking distance to town, you can enjoy shopping, restaurants and the cinema. This complex also has common area Jacuzzi, Outdoor Pool (summer), a BBQ area and Coin Operated Laundry Facilities. Beautifully landscaped grounds with wildflowers add to your pleasure in the summer. Outdoor parking in front of your unit adds to the convenience. A wealth of outdoor activity is at your fingertips, including easy access to the bike path and fabulous Mammoth hiking trails; including Mammoth Rock and the Sherwins, horseback riding in the meadow, the motocross track that hosts the annual Mammoth Motocross, and fishing in Mammoth Creek to enjoy your Mammoth Lakes rental. Complex Map
Sunshine Village Mammoth Lakes is just minutes away from skiing, snowboarding, snowmobiling, hiking, biking, golfing, and the best fishing in the Eastern Sierra. Don't forget to bring your golf clubs if you're visiting us in the summer, because we are right next door to the Sierra Star Mammoth Lakes Golf course. Sunshine Village offers fully equipped condominiums at family-affordable prices. Some are even pet friendly. This convenient Mammoth location puts you in the heart of town walking distance to shopping and restaurants. Also on the winter Shuttle Stop to Eagle or Canyon Lodge. The complex amenities at Sunshine Village include a sauna, jacuzzi and recreation room in the winter. In summer, add a swimming pool, lighted tennis court, propane barbecues and picnic tables set throughout the complex. In our recreation room are a billiard table, a ping-pong table and a video game for your enjoyment. For your convenience there is also a coin operated laundry facility on site. After a great day of fishing or skiing/snowboarding, simply store your gear in the ski locker, located right outside the front door of your condo. Outdoor parking (with 2 parking spaces max) in front of your unit adds to the convenience for this Mammoth Lakes Condominium Complex. Complex Map
Wildflower Rentals Mammoth Lakes: Convenient In Town Location Wildflower is a beautiful, year round, woodsy and peaceful complex located in the heart of Mammoth Lakes on Arrowhead Drive near Old Mammoth Road. Wildflower offers natural wood buildings, large balconies and a wonderful outdoor spa and sauna for relaxing after a day on the slopes or a hike in the mountains. After a great day of fishing or skiing/snowboarding, simply store your gear in the ski locker, located right outside the front door of your condo. Outdoor parking (with 2 parking spaces max) in front of your unit adds to the convenience. This complex also has common area Outdoor Pool (summer), a BBQ area and Coin Operated Laundry Facilities. Wildflower is located along the free Green Line shuttle bus route to Mammoth Mountain Ski Area and is walking distance to several popular shops and restaurants along Old Mammoth Road. Beautifully landscaped grounds with large pine trees. Wildflowers and grass run through the entire complex in the summertime. Wildflower is a favorite choice among visitors to Mammoth. This complex is a great place for you and your family to have a fun filled vacation any time of the year. Wildflower features units with spacious vaulted living rooms to accommodate from 2 – 10 guests. Enjoy our beautiful condos in Mammoth and feel right at home in the mountains of the Sierra's. Complex Map
The Woodlands is a beautiful year round townhouse complex with natural wood siding, large decks and nice views. Nestled in the woods, in the heart of beautiful Mammoth Lakes located between the two Mammoth Lakes golf courses; Sierra Star and Snowcreek. The Red Line Shuttle runs right outside the complex for direct access to the Village Mammoth Lakes Gondola and Main Lodge ski area. A brief two-block walk takes you to restaurants (including the popular Stove Restaurant), movies and shopping. Nicely landscaped grounds surrounded by beautiful pine trees and the spectacular Sherwin mountain range await you at The Woodlands. These spacious units have vaulted ceilings and large windows to let the light in. We feature 2 bedrooms, 2 bedrooms + loft and 3 Bedrooms and 2 or 3 baths making Woodlands a favorite choice of visitors with large or multiple families or groups (sleeping 6-10 per unit). A few of our Woodlands rentals are also pet friendly. After a great day of fishing or skiing/snowboarding, simply store your gear in the ski locker, located right outside the front door of your condo. Outdoor parking (with 2 parking spaces max) in front of your door adds to the convenience. This complex features a wonderful outdoor pool for use in the summer. After a day on the mountain, come home and relax in the wonderful spa or sauna. Coin Operated Laundry facilities and a BBQ area are also onsite for your use. Searching for the perfect Mammoth Lakes vacation rental? Look no further, you have found it at The Woodlands, one of the best values in Mammoth. Complex Map